Coaches
Amy Bokker
Camp Director
Since Amy Bokker joined the Cardinal for the 2009 season, she has established Stanford as one of the West's premier programs, consistently ranked among the country's Top 20.
Bokker has led Stanford to five Mountain Pacific Sports Federation Tournament titles and to six NCAA tournament appearances in eight seasons.
In 2015, Stanford finished 15-3, tying the fewest losses in school history, and led the nation in goals per game (16.00) and draw controls (16.28). The Cardinal also extended its run of conference tournament final appearances to 18.
At Stanford, Bokker has coached seven All-Americans (nine total honors), 19 players to 26 IWLCA All-Region selections, 30 to 54 All-MPSF selections, 23 to 28 All-MPSF Tournament selections, four MPSF Player of the Year recipients (five awards total), five MPSF Tournament MVPs and two MPSF Newcomers of the Year.
Junior midfielder Lucy Dikeou and junior defender Adrienne Anderson both received All-America honors in 2015. After the season, they and teammate Alexandra Crerend received invitations to the U.S. national team tryouts and Dikeou made the squad. She is the third Stanford player to make the national team.
Midfielder Hannah Farr, the 2014 MPSF Player of the Year as a junior, joined Lauren Schmidt '10, as Stanford players who earned all-conference first-team honors all four seasons.
In all, six Cardinal were named to the All-MPSF team, including four on the first team. In addition, Anderson, Crerend, Farr and freshman Kelly Myers were MPSF All-Tournament selections, with Myers earning Tournament MVP honors.
Fourteen Stanford players earned MPSF All-Academic honors in 2015 – the most in the 10-team conference. All three captains were among those on the MPSF All-Academic list, and the Cardinal was among those receiving IWLCA Team Academic Award honors for having a team grade-point average above 3.0.
Bokker also serves an assistant coach for the U.S. national team. In 2013, Bokker helped coach the U.S. to the 2013 FIL Women's World Cup title. After joining the staff as an assistant in 2010, Bokker helped coach the U.S. to its seventh world title as the Americans outscored opponents by a combined 127-34 over seven games in Oshawa, Ontario, Canada.
Bokker assisted the Canadian national team in the 2009 FIL World Cup in Prague, Czech Republic, where it captured the bronze medal, the first medal the country had won in 28 years.
Building a program was nothing new to Bokker. She was in a similar situation when she took over the George Mason program in 1998 in Fairfax, Virginia. The school did not have a strong lacrosse tradition.
Bokker made an immediate impact, guiding the Patriots to the first winning record in school history, with an 8-7 mark. During her tenure at George Mason, Bokker's squads maintained their status as one of the nation's consistently strong programs, with six top-20 national finishes, including a final national ranking of No. 16 in 2008 when the Patriots went 12-5, setting a school record for single-season victories.
During her 11 seasons at George Mason, Bokker compiled an 86-94 record and left as the winningest coach in the program's history. At George Mason, Bokker coached nine All-Americans, two Academic All-Americans, a Colonial Athletic Association Player of the Year, two CAA Defensive Players of the Year and a CAA Rookie of the Year.
In all, Bokker coached 18 first-team all-conference players at Mason and her players totaled 48 all-conference honors.
Before her arrival at George Mason, Bokker served as the head coach at American for a season, leading the Eagles to a school-best 8-8 record, earning the 1997 CAA Coach of the Year. During her time at American, Bokker was also the assistant coach for field hockey.
Through the 2015 season, Bokker's record was 190-139 as a Division I head coach.
The former Amy Umbach is a native of Phoenixville, Pa., where she was a three-sport high school star, in lacrosse, field hockey and swimming. She was a two-time All-CAA first-team choice at William and Mary, where she also played field hockey. She was also named a BRINE/IWLCA All-American her senior season.
She earned her master's degree from George Mason in exercise, fitness and health promotion in 2007.
Bokker is the sixth head coach in the 21-year history of varsity women's lacrosse at Stanford. Bokker and her husband, Scott, have a son, Chase, and a daughter, Alexis.
---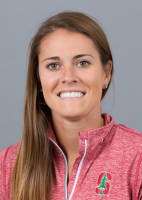 Chelsea Gamble
Assistant Coach
Chelsea Gamble serves in the role of offensive coordinator for Stanford and was instrumental in the Cardinal's No. 1 national ranking in goals per game (16.00) in 2015.
In her first season at Stanford, the Cardinal won the Mountain Pacific Sports Federation regular-season and tournament titles, and advanced to the NCAA tournament, finishing 15-3 and with a No. 16 IWLCA ranking.
Eleven players scored 10 or more goals. Stanford scored 288 altogether, averaging a national-leading 16.00.
Gamble arrived at Stanford from Connecticut, where she was an assistant the previous three seasons. During that time, the Huskies enjoyed unprecedented success. UConn set consecutive school records for victories, in 2012 and 2013, and advanced to its first NCAA tournament, in 2013.
As a freshman midfielder at George Mason, Gamble played under current Stanford head coach Amy Bokker and was named to the Colonial Athletic Association All-Rookie team. Gamble was named captain as a sophomore and held that post for three seasons, earning All-CAA honors along the way.
Gamble earned her bachelor's in integrative studies, with a focus on elementary education, in 2011. She went on to earn her master's from Connecticut in educational psychology, with a focus on cognition, instruction, and learning technologies, in 2014.
---
Kristen Carr
Assistant Coach
Kristen Carr joins the Stanford lacrosse coaching staff after serving as an assistant coach at the University of Delaware for three seasons. Prior to her time at Delaware, she was a volunteer assistant at the University of North Carolina, where she was also a four-year standout for the Tar Heels.
While at Delaware, Carr worked closely with the draw unit, midfielders, and goalies. Following her second year with the program, Carr transitioned into a new role and was responsible for coordinating the offensive and draw unit. She also assisted with strength and conditioning, service initiatives, player development, equipment and sponsorship, travel and fundraising efforts.
A 2010 graduate of North Carolina with a degree in exercise and sport science, Carr served as a volunteer assistant with the Tar Heels in 2011 for head coach Jenny Levy. She helped lead UNC to a 15-6 record, a runner-up finish in the Atlantic Coast Conference, and a berth in the NCAA Final Four before falling to Northwestern 11-10 in the semifinals. During the championship run, Carr was responsible for the draw unit and assisted with training the goalies and developing individual player skills.
As a four-year standout as a defensive midfielder, Carr led the Tar Heels to a four-year record of 60-20 and four NCAA Tournament appearances, including a national runner-up finish in 2009, a berth in the semifinals in 2010, and trips to the quarterfinals in 2007 and 2008. She appeared in 81 games with 62 starts and recorded 21 goals and nine assists while setting a UNC career record with 174 draw controls. She also set UNC single game (eight) and single season (64) marks for draw controls.
She earned first team All-American and first team All-ACC honors as a senior in 2010 when she was one of the nation's top draw control specialists and led the nation's third-ranked defense that allowed just 7.25 goals per game. She broke her own UNC single season draw control record with 64 and also caused 18 turnovers to rank No. 3 all-time in UNC history. The team went 17-3 and advanced to the NCAA semifinals.
A current member of the United States Women's National Team, Carr has garnered the respect of some of the best coaches and players in the country for both her talent and her leadership, including current Stanford head coach Amy Bokker.
In late January 2013, Carr was named to the US National senior team 18-player roster, which won the gold medal in the 2013 Federation of International Lacrosse (FIL) World Cup in Oshawa, Ontario, Canada.
Carr was a three-sport standout in lacrosse, soccer, and basketball at Mercy High School in Baltimore and was an all-conference performer in both lacrosse and soccer. She was an All-Baltimore City pick in lacrosse and was the Baltimore City Player of the Year and a first team All-State selection as a senior.
---
Caylee Water
Volunteer Goalie Coach